Maxim Skomorovsky from INRTU organized «Waltz of Yachts» in Irkutsk
Maxim Skomorovsky, head of the dance club «Academic» at INRTU and President of the yacht club «Istok», organized the «Waltz of Yachts» festival in Irkutsk. Sailboats sailed from the icebreaker «Angara» to the bay of Jacobi with musical accompaniment. The event was timed to the Day of Knowledge and the 85th anniversary of the Irkutsk region.
According to Maxim Skomorovsky, the ideological inspirer of the event was Irkutsk yachtsman Viktor Borisov. He dreamed of presenting a water-music show to his daughter for her graduation. Maxim appreciated the idea of his friend and proposed to organize a large-scale spectacle for the citizens. The project was supported by the Yacht Club «Istok», Irkutsk city administration, the Ministry of Youth Policy of the Irkutsk region and radio «McM».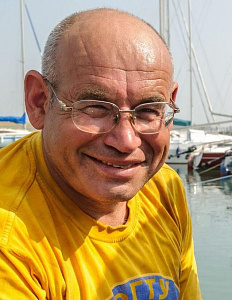 «The dance on the water is a hard process that requires quality technical training. Sailboats of different sizes, sailing and maneuvering qualities, nevertheless lined up in a certain geometric pattern. Many yachts were equipped with outboard motors, which made steering difficult. To achieve synchronicity, the captains trained ashore. They learned decays, crossings, sweeps and other elements.
It was a really good holiday. The reaction of the audience showed that people missed such live, uniting events. There was a surprising contact between the crews of the yachts and the audience, who gently swayed the lanterns of their cell phones in time with the music.
It was especially nice that we were supported by applause from INRTU students. Next year we hope to please Irkutsk citizens with a spectacular performance again», - said Maxim Skomorovsky.