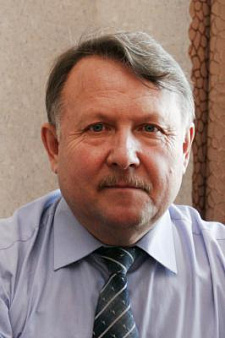 Home
Teaching
Research and Publications
Contact
Home
Degree
Doctor of Sciences, Technical Sciences
Department of Physics
Responsibilities
Organizes all types of training sessions for all forms of education; develops and submits for approval educational programs for the disciplines of the department in accordance with the established procedure; head of educational programs for master's and postgraduate studies.
Education
Education, degrees
1974
Power supply of industrial enterprises in cities and agriculture, Irkutsk Polytechnic Institute
Continuing education
2021
Training and testing of knowledge of labor protection requirements, Irkutsk National Research Technical University
Awards
Honorary Worker of Higher Professional Education of the Russian Federation; Sign "For the Benefit of the Fatherland"; Medal "For Merits in the Development of Science and Economics"; Sign For Merits in the revival of the Russian economy, the Order of Alexander the Great of the Academy of Natural Sciences.
Accomplishments
Member of the Academic Council; Member of the Dissertation Council.
Professional Interests
Publications
INTRODUCTION OF A METHOD FOR RECYCLING WASTE FROM THE PETROCHEMICAL AND COAL MINING INDUSTRIES; MICROWAVE RADIATION IN COAL DRYING TECHNOLOGY; A METHOD FOR PROCESSING WORN TIRES AND/OR RUBBER PRODUCTS AND A DEVICE FOR ITS IMPLEMENTATION; WATER IN THE TECHNOLOGY OF PRODUCTION OF OILS BASED ON FATTY ACIDS OF TALLOW OILS; Moistening of forest combustible materials: The overcooled water vapour. Anthracite sorbents and filtrates.