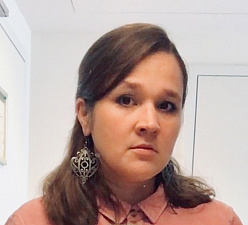 Home
Teaching
Research and Publications
Contact
Home
Education
Education, degrees
2011
Architecture, Irkutsk State Technical University, Faculty of Architecture
2014
Urban planning, Irkutsk State Technical University, School of Architecture and Construction
Internships
2020
Intellectual property in the digital economy: from application to implementation, Federal Institute of Industrial Property, Moscow
2020
School of Mentors, Moscow School of Management
2021
University 2030: Goal Setting, Moscow School of Management
2021
Design community Design Joker in Kazan, Interior magazine, Moscow
2021
Study of Revit Architecture programs and computer platforms Rhinoceros as a means of architectural design, Moscow Architectural Institute (State Academy)
Accomplishments
For the period from 2012 to 2021, 22 scientific articles were prepared in peer-reviewed scientific journals, including five articles indexed in international databases Scopus. The textbook "Fundamentals of compositional analysis of a monument" of architecture has been prepared for publication. Leadership of project training for a team of students "Comfortable yard" as a mentor, IRNITU, Irkutsk (2019-2020); Management: - two projects of winners in the Vanguard of Science, 2019, - four works for the XX International Festival "Architecture in Siberia 2020", a bronze and honorable mention diploma., - two works at the III All-Russian Festival "Architectural Heritage", diploma of the Union of Architects of Russia.
Professional Interests
Publications
The factors of form building in maximally perceived architecture and design, 2019. Architecture of the University campus in terms of maximum energy efficiency, 2020. University campus in the strategy of functional and effective architectural morphogenesis, 2021. Methodology project dimensions of courtyard areas and the principles of comfortable environment of the INRTU campus, 2021. Determination of territorial compactness and analysis of optimization of energy-efficient characteristics of the university campus, 2021. IOP Conference Series: Earth and Environmental Science.