Maxim Popov, a graduate student of INRTU, won 1 million roubles at the Russian Student Startup Contest
Maxim Popov, a master's student at the School of Information Technology and Data Science at INRTU, won the Russian Student Startup Contest. The Polytechnic student received a grant of 1 million roubles to create a system for recording personnel movements. The developer's product can be used by representatives of industrial companies and the tourism industry.
The competition was organised by the Russian Ministry of Education and Science and the Foundation for Assistance to Innovations as part of the federal project "University Technology Entrepreneurship Platform". According to the organizing committee, 1,000 students of Russian universities were among the leaders in the "Student Startup" project. The projects focus on the creation of new devices, intelligent manufacturing, chemical, digital and biotechnologies. There are also developments in medicine, resource-efficient energy and creative industries.
A project by Maksim Popov, a first-year master's student and an activist of the student scientific society "Quantum", proposes a hardware-software system for tracking the location of an employee in real time. The final product will be a portable handheld device that will receive data and transmit it via radio to a server. The data will then be visualised.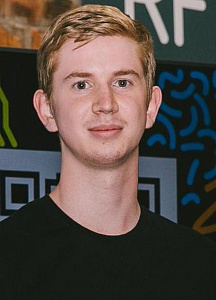 "The consumers could be large industrial companies with a large number of remote sites, as well as travel companies organising tours in the open countryside," said Maxim.

Co-authors of this work are master's students Vladislav Byankin and Fedor Deryugin. The scientific supervisor is Associate Professor Roman Kononenko, who heads the computer hardware and software laboratory at the university.
The developer intends to use the grant money to buy equipment and components, test hypotheses and pay the team's salaries.
"The final price of the system has not yet been determined, but it will be roughly comparable to what competitors offer (one of the main competitors is Goodwin). However, the advantage of our solution is that it will run on existing customer infrastructure. This means that the customer will not have to use someone else's services, and all the data will be in the company itself," the grant holder stressed.
It should be noted that the project is at the stage of testing the device in real conditions.