INRTU students won four medals at the Irkutsk Region Championship in cross country race
INRTU students won gold and three bronze medals at the Championship of Irkutsk region in track and field cross-country race. The competition was held on the INRTU territory on September 30.
At a three-kilometer distance within the age category up to 20 years old, two INRTU students performed at once. Gold medal was awarded to Stepan Skorobogatko, a sophomore of the Institute of High Technologies of INRTU. Viktor Kuvychka, a student of the Geological Exploration Technical School, took third place.
According to Stepan Skorobogatko, there were about 20 athletes competing in this category: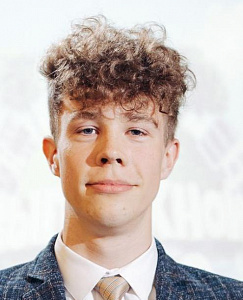 "We had to overcome an interesting route consisting of steep downhills and uphills. It added a certain amount of sporting excitement.
On the last lap a real competition began, and it was clear how each of the athletes distributed the energy over the entire distance".
During two years of study at INRTU Stepan Skorobogatko has demonstrated excellent results in sports. He is silver medalist of "Cross Nation-2022" and SFD Championship in athletics. Last year Stepan won a bronze medal at the regional track and field cross-country tournament.
Among the under-18 age group in the three-kilometer distance, the bronze medal was awarded to Zinur Sadykov, a first-year student of INRTU Siberian School of Geosciences, learning to become a hydrogeologist. He became interested in track and field athletics when he was a first-grader at Osinskaya secondary school.
"I was trained at the Children's and Youth Sports School of Osa village by my coach Elena Yuryevna Novikova. Even at the start of my sports career I won school and district tournaments. I plan to improve my results at the university and represent INRTU at large-scale competitions," says Zinur.
Alexander Prokhorov, a School of Subsurface Resource Management student, finished after covering the distance of one kilometer. Nikita Vashchuk, a student of Baikal School of BRICS, who was awarded the first sport category at the championship, took the fourth place.
Photo by Zinur Sadykov