In Mongolia INRTU graduate Khookhoryn Badamsuren was awarded the title of Hero of Labor
INRTU team congratulates its outstanding graduate, emeritus professor Khookhoryn Badamsuren with the title of Hero of Labor of Mongolia. This is the highest state awarded for remarkable achievements in the development of the country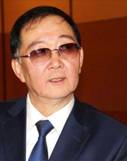 Khookhoryn Badamsuren was born in 1955 in South Gobi aimag. In 1980 he graduated from INRTU with a degree in «Mining engineering and surveying». He also repeatedly upgraded his qualifications in the Russian Federation and the USA.
In 1997 he graduated from The Bridge International School in Colorado. In 2004 he received his PhD in Moscow. Doctor of Technical Science speaks both Russian and English.
In 1980-1989 he worked at the Ministry of Geology and Energy, in 1989-1994 he was deputy director of the Mining and Processing Plant of Bor-Undur, in 1994-2006 he was CEO of the Mongolian-Russian association «Mongolrostsvetmet».

In 2008-2012 Khookhoryn Badamsuren was a member of the State Great Hural of Mongolia.
Since 2012, he served as president of the Chamber of Mines, acting head of the Mongolian Fluorspar Association and consultant for major mining and metallurgical projects.
In 2015 he supervised a project of the Smelter and Concentration Plant under the Ministry of Industry. In August 2016 he was appointed Deputy Minister of Mining and Heavy Industry. In December 2016 he took the post of CEO of «Erdenet Enterprise».
In 1991 Khookhoryn Badamsuren was elected deputy of the Great People's Khural and participated in the approval of the Constitution. In 1996 he was awarded the title of Mongolian State Honored Industry Worker.
Khookhoryn Badamsuren is the second INRTU graduate who was awarded the title of Hero of Labor of Mongolia. The first was Shagdaryn Otgonbileg (1952-2001). He graduated in «Mining engineering and surveying». He was the first Mongolian CEO of Mining and Processing Plant «Erdenet».
INRTU has always been a source of personnel for Mongolia. Since 1961 the University has trained almost 700 specialists in the field of geology and mining for this country. With the participation of INRTU professors Mongolian scientists defended about 30 candidate theses and more than 10 Ph.D. theses. Professors also prepared more than 100 scientific works.