«Freshman Day» at BS of BRICS: Presentations, Excursions and Country Studies Quests
Vladimir Smirnov, Vice Rector for Academic Affairs of INRTU noted that BRICS is the youngest department of the university. Classes at BRICS begin in October,
since then students are immersed in a compact multi-lingual environment. They also study non-standard disciplines such as innovative economics, modern electricity technology, global management, finance and taxation. In 2022 BRICS launched a new academic program «Linguistic Support for Business Communication».
Stepan Bykov, Vice-rector for International Affairs is on a six-month internship at the University of Illinois (USA). But he greeted first-year students on video communication. He wished them to get a lot of positive impressions and also to be patient and persistent.
Director of BRICS Anna Kirienko wished students to use the prospects of quality education, as well as to find friends at INRTU. This year 130 students were admitted to BRICS Bachelor's degree programs, most of them from Russia. Chinese, Indian and African citizens also became first-year students. 42 students chose Master's degree programs.
Natalia Petrova from BRICS gave a presentation on the scientific, social, cultural and sports life of the university. She explained how communicate with mentors, group supervisors and specialists of the International Services Center. Natalia Petrova also announced a talent festival «Debut at INRTU» which will take place on October 21 at 15:30 in the assembly hall of the INRTU main building.
Nicole Michelson presented the activities of the Student's Trade Union Committee, benefits and compensation available to students in special cases. «Easy School» teacher Alyona Lozhkina offered the freshmen to combine study at INRTU and work at the educational center. According to her, in «Easy School» INRTU students can improve flexible skills and prove themselves in project management and pedagogy.
Then students went on a quest. Senior students prepared English-speaking quests on logic, knowledge of the Lake Baikal nature and national costumes of the world. At the end of the event first-year students were invited for university tour.

Egyptian Amr Mahmoud was impressed by the performance of the «Ethnobit» ethnic percussion studio. He became acquainted with this group six months ago when he came to study Russian at the preparatory faculty. Amr began to study in the studio and this spring he won the grand prize at the regional festival «Studvesna». Now Amr study at the «International Business» program.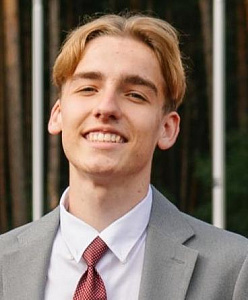 Kirill Zankovich study at the new program «Linguistic Support for Business Communication.
«BRICS attracted me by the opportunity to be in an English-speaking environment and learn from interesting professors, including foreigners. I will remember freshman day for a long time. The representatives of Student's Trade Union Committee greeted us kindly and offered to play interactive games. I especially liked the tour of BRICS building which is located next to the main university building and has an amazing atmosphere. There are spacious classrooms with modern multimedia equipment and a cozy cafeteria at our service. All this creates the most comfortable conditions for study», Kirill shared his opinion.
INFO: BRICS is a new INRTU educational greenfield established in September 2017. It units students and postgraduates from more than 30 countries such as Russia, India, China, and Brazil. BRICS offers 9 educational programs. Lectures are given by professors from Russia, Iran, Australia, India, Vietnam, Nigeria and China. In 2021 BRICS prepared the first 16 graduates of master's programs. Since February students have been studying in the renovated building.