Fairy tales and myths helped students improve their German and English at summer school
According to Tatiana Gorbunova, assistant professor of the Foreign Languages Department, English and German have been identified as the school's working languages. Student instructors were Anton Chervonniy and Anna Morozova, graduates of the Engineering English program. The German group was supervised by Evgeny Boyarkin and Danil Istomin.
Linguistic meeting was dedicated to gods and elements. Polytechnic students watched films in foreign languages (Videolounge event) and made mental maps of elements, reflecting on how the action could have ended. Famous myths were discussed by summer school students at the "Ancient Greek Evening" costume party.
Another evening was devoted to theatre. The students acted out shadow plays and prepared puppet shows. Kolobok (Kolobok), a folk tale about Angara and Yenisei, and Star Wars (Krol Wars) were shown in a new interpretation.
The participants of the shift were divided into teams. They performed tasks and won competitions to gain as many points as possible. The winning Water group received badges designed by future architect Iryna Dimitryuk.
"In the form of a game you can expand your vocabulary, practise grammatical constructions, improve your writing and speaking skills. The students were convinced that making mistakes is not scary, if there is a desire to practice the language," said Tatiana Gorbunova.
For the first time Ekaterina Kudelina, a third-year student of the School of Architecture, Construction and Design and a participant in the Engineering English program, joined the summer language school. The student was most impressed by the theatre event.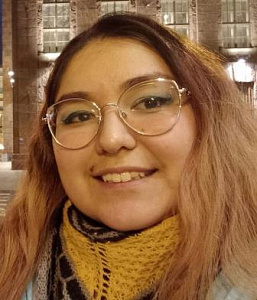 "In one of the workshops we made a lot of paper cranes. They were the main props in the production. We told a sad story about a girl who could not survive Hiroshima. The mini-performance was timed to coincide with the World Day for the Prohibition of Nuclear Weapons (6 August)," said Ekaterina Kudelina.