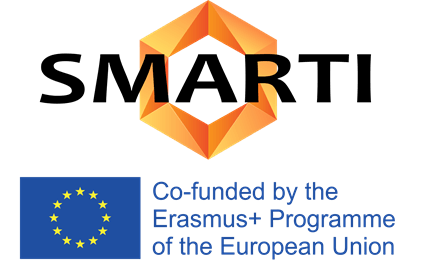 Erasmus+ Key Action 2
Capacity building in the field of higher education
Project name / acronym: Support for innovative methodology, approaches and tools for teaching through the medium of English in order to improve educational yield, sustainability and internationalization / SMARTI
Project reference: 617489-EPP-1-2020-1-DE-EPPKA2-CBHE-JP
EU Grant: 936824 EUR
Project dates: January 15, 2021 — January 14, 2024
Project web-site: smarti-erasmus.eu
Consortium:
Coordinator:
Technische Universität Dresden, Germany
Partners:
Riga Technical University, Latvia
Liverpool John Moores University, UK
Universidade Católica Portuguesa, Portugal
Ogarev Mordovia State University, Russia
Irkutsk National Research Technical University, Russia
Kazan Federal University, Russia
Petrozavodsk State University, Russia
Certification Association «Russian Register», Russia
Public Administration Academy of the Republic of Armenia Vanadzor State University, Armenia
Vanadzor State University M. Nalbandyan State University of Shirak, Armenia
Goris State University, Armenia
National Centre for Professional Education Quality Assurance, Armenia

About the project
SMARTI project is being implemented by the consortium of 4 European, 5 Russian and 6 Armenian HEIs / organizations under the coordination of Technische Universität Dresden (Germany). The project is aimed at the promotion of excellence of education in PC by the development and the implementation of a comprehensive pedagogical Modules English as a Medium of Instruction (EMI) curricula for in-service Armenian and Russian teaching staff and trainee teachers using an ECTS/Tuning Modular design for teaching academic content in English in Russia and Armenia, which will be developed via a network of EMI Centers.
The project is furthermore aimed at achieving the following wider objectives:

developing transparent, national and international, educational standards and comparable learning tools and teaching standards in accordance with Bologna criteria;
enhancing the quality of academic content and staff and students through development of a sustainable curricula for teacher training;
provide support the internationalization of participating EU and Armenian and Russian institutions and support staff and student mobilities and exchanges.
Main project outcomes include:

Evaluate Armenian & Russian practices in teaching academic content in English (EMI teaching) and EMI competence enhancement
Study best European practices in teaching academic content in English (EMI teaching) and EMI staff competence enhancement
Create model and professional competences descriptor of university teacher of academic content in English.
Conduct efficient Start Off meeting to ensure full implementation of project goals, create management teams and Quality Control Plan.
Develop and set-up the network of EMI Training Centers including development of documentation, intake and training of staff for the Centers.
Train Partner countries universities staff in European best practices in both ESP and EMI best practice teaching.
Partner countries institution will develop and pilot (2 times) 9 EMI Staff pedagogical training Modules for staff and students in Armenia and Russia using ECTS/Tuning Modular framework.
Project realization at INRTU
SMARTI project has been launched at the University in the beginning of 2021. The project is implemented by the Educational and Methodological Department supported by the Institute of Linguistics and Intercultural Communication. The main piloting subdivision will be the Institute of Information Technology and Data Science and its EMI programs.
The main contact persons of the project are:
Evgeniia Arbatskaya, academic supervisor (arbatskaya.evgenia(at)istu.edu)
Varvara Panko, administrative supervisor (panko.varvara(at)istu.edu)
Key project events and results:

On March 30 — April 01, 2021 INRTU project team took part in the kick-off meeting at Kazan Federal University. The event was organized in a blended format: Russian project partners met onsite at KFU while European and Armenian colleagues joined the meeting online on Zoom platform. Over 70 representatives from 11 consortium members, NEO Russia, NEO Armenia, SMARTI associate partner have become the participants of the hybrid event. The kick-off meeting agenda has been fulfilled and objectives achieved: all partners presented their organizations and introduced project teams, workpackage leaders outlined the WP activities and timeline, emphasized the WP main features and partners' involvement. As planned, the event fostered all project-related activities at SMARTI partner organizations. More information at https://smarti-erasmus.eu/smarti-project-kick-off-meeting/.
INRTU students and staff took part in the activities of WP1 «Preparation» aimed at studying existing practices and peculiarities of teaching special disciplines in English at Russian HEIs (field study) as well as analyzing Russian EMI related publication (desk study). Students, academic and non-academic staff at SMARTI consortium members as well as other RU educational institutions were asked to complete the survey about EMI-related issues: availability of EMI programs, availability of professional development programs for academic staff in the field of EMI; requirements towards language level for both teachers and students of EMI programs; application of special teaching and learning techniques in EMI programs etc. Over 3000 staff and students from 32 Russian universities located in 19 RU cities took part in the survey.
Along with the field research, SMARTI RU project members analyzed Russian publications in the field of EMI, SCL, bilingual education etc (field study).
The following conclusions have been made based on the analysis of the results of both studies: development and realization of EMI programs requires not only good knowledge of English but a number of other specific competences; for successful realization of EMI programs it is necessary to use advanced teaching and learning techniques (like SCL); it is necessary to develop and involve teaching staff into EMI professional development programs; there is a lack of EMI-related publications and literature in Russia.
In June 2021 National Office Erasmus+ Russia conducted the monitoring of SMARTI project with the main aim to analyze main project characteristics needed for project successful realization. Having analyzed the materials provided by RU partners, NEO Russia produced a number of valuable recommendations and comments.
On October 6–8, 2021 SMARTI partner Goris State University (Armenia) hosted Hybrid Combined Annual Steering Group Meeting &Training Day. INRTU project team joined the meeting online. During this event, the partners discussed the results of NEO Russia monitoring visit, the outputs and outcomes of WP1 «Preparation», the specifics of organizing future international conferences as well as plans to open EMI centers. Within the framework of the meeting, a special training session was organized for dissemination officers of project partners to boost the dissemination processes within SMARTI.
In the beginning of December 2021, RU consortium members published the newsletter covering the first year of project realization. Download the newsletter # 1 to be aware of project events, news and plans.

On December 6 and 23, 2021 Anastasiia Sinitskaia and Nina Druzhinina, SMARTI project team members have conducted the information sessions at the Division of Mathematics and Applied Informatics of the Institute of Information Technologies and Data Analysis as well as at the Department of Foreign Languages ща the Institute of Applied Linguistics and Intercultural Communication. During the sessions, INRTU staff has got the detailed information about the project: its aim and objectives, consortium, INRTU role and EMI phenomenon. The first project outcomes and outputs including desk and field study results have been also reported. The presentation aroused a string interest among the audience
INRTU SMARTI project team members Anastasiia Sinitskaya and Nina Druzhinina took part in ESP and ECTS/TUNING training at Catholic University of Portugal (UCP) in January 2022.

Following the results of ESP and ECTS/TUNING training at Catholic University of Portugal, multiplication event was organized at INRTU. The participants have become 20 INRTU staff and students interested in EMI concept. The multiplication event covered the following topics – both from theoretical and practical point of view: experience and best practices of EU SMARTI partners by the development of programs and courses including English-medium ones; application of Bloom's taxonomy by learning outcome identification; practical advice for creation successful presentation.

SMARTI Russian partners published the second issue of the project newsletter. Download the newsletter # 2 to be aware of project news and events.