Nigerian student presents his culture and traditions at the Speaking Club at INRTU
Muhammad, a nineteen-year-old Nigerian student who came to Irkutsk in 2021 and is currently studying Artificial Intelligence, told the participants various facts about Nigeria. Today students from different schools of Irkutsk State Technical University learnt that families in Nigeria consists of a minimum of 8 people and sometimes up to 20. As Nigeria mostly is a Muslim country, men can have several wives and consequently a lot of children. The students remembered the footage from the presentation about traditional Nigerian cuisine, as there are several ethnic groups in Nigeria and hence the food is also varied. Muhammad himself belongs to the Housa ethnic group, so today he wore a costume that he had brought especially for such an occasion.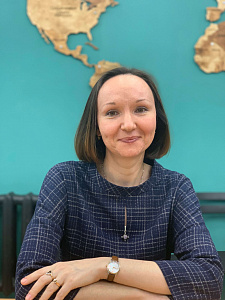 «This semester we have dedicated our Speaking Club to the cultures and traditions of different countries. We plan to hold these events every month, in April we plan to invite guests from Ethiopia, and in May from India, we think that such format of events will be interesting for students of our university not only to improve the level of English, but also to learn to respect traditions, history and culture of each other», — said the organiser of the event Eremina Olga Vladimirovna (Associate Professor of Foreign Languages Department № 2).
«I chose to study artificial intelligence because it is going to be needed for the future and now the technology is more focused on robots and applied informatics. I see myself in the future as a successful artificial intelligence practitioner who will invent unique machine and bring change to my country in technical aspects and the world also», — said the host of the event.
A large number of Nigerian students are presently studying at INRTU, many of them studying on programs with Russian students, so this type of event gives them an opportunity to get to know each other better and learn about the culture and traditions of another country.