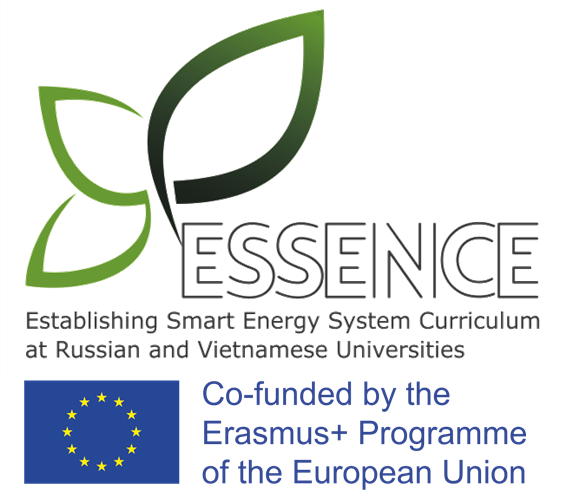 Erasmus+ Key Action 2
Capacity building in the field of higher education
Project name / acronym: Establishing smart energy system curriculum at russian and vietnamese universities / essence
Project reference: 586087-EPP-1-2017-1-LV-EPPKA2-CBHE-JP
EU Grant: 856328 EUR
Project dates: October 15, 2017 — October 14, 2020 (extended till October 14, 2021)
Project web-site: essence-erasmus.org
Consortium:
Coordinator:
Riga Technical University (Latvia)
Partners:
Institut Polytechnique de Grenoble (France)
Technical University of Košice (Slovakia)
Tomsk Polytechnic University (Russia)
Irkutsk National Research Technical University (Russia)
Ural Federal University (Russia)
Kazan State Power Engineering University (Russia)
North-Eastern Federal University (Russia)
Ho Chi Minh City University of Technology and Education (Vietnam)
Hanoi University of Mining and Geology (Vietnam)
Project summary:
Current priority of world energy industry is designing Smart Energy Systems (SES) which contribute to deployment of an interdisciplinary approach integrating achievements of energy technologies and IT. Along with the technologies development, energy sector requires specialists who are able to meet the challenges and capable to conceive, develop and implement innovative solutions under diverse conditions.
In order to satisfy the needs of Russian and Vietnamese energy sectors in engineers in new format, the project ESSENCE «Establishing smart energy system curriculum in Russian and Vietnamese universities» will be realised by the consortium consisting of 3 EU, 5 RU and 2 VN universities aimed at modernisation of existing master degree programmes in the field of electrical engineering in a way to meet the requirements and expectations of main stakeholders of the programme, in accordance with Bologna requirements and European Qualification Framework and in close cooperation with industry.
The project will achieve the following results:
Modernised degree programmes will be implemented at RU and VN universities, peer-reviewed teaching and learning materials including guide on industry involvement in 3 languages (EN, RU and VN) will be developed and uploaded to project web-site for free use;
partner university teachers, representatives of RU and VN HEIs will be trained in advanced teaching methodologies;
partner university teachers will enhance their skills in curriculum development and subject area;
contacts with industrial enterprises in RU and VN will be established for their deeper involvement into educational process and enhanced job placement of programme graduates;
agreements on academic mobility between CM will be signed.
The project will benefit multiple target groups on different levels during the project life-time and beyond: current and prospective students, staff of participating universities, higher educational society, and industry.
Realization of the project at INRTU:

ESSENCE project has been launched at the University at the end of 2017. The project is implemented at the Department of Power Supply and Electrical Engineering of INRTU Power Engineering Institute where the modernized master program is being delivered. Key project contact persons at INRTU are:
Suslov Konstantin, research supervisor
Panko Varvara, administrative supervisor
As ESSENCE consortium partner, INRTU takes an active part in all project activities necessary to achieve the project results and also is a leader of the work package 6 «Dissemination and exploitation of project results».
Project results:
The new master degree program «Digital power engineering» has been launched; the program is based on the core curriculum consisting of 10 disciplines developed by Russian and Vietnamese consortium members in close cooperation with European partners. All discipline related materials (syllabi, presentations, lab works, guides etc) have been peer-reviewed by at least two experts from the EU and RU/VN partner university; course syllabi have been peer-reviewed by industry representatives as well. The discipline «Digital Technologies for Protection and Communication» was developed by the staff of the Department of Power Supply and Electrical Engineering professor Konstantin Suslov and associate professor Ilia Shushpanov.
In September 2019 16 students were enrolled to the program «Digital power engineering». 13 students successfully graduated in 2021 and were awarded with master degree diplomas. In 2020 another 16 students started their training on the program.
In the academic year 2021–2022 the admission for the English-medium program «Digital power engineering» has been opened.
In the course of project realization University academic staff enhanced their qualification in the following fields: curriculum development based on learning outcome approach, new teaching and learning techniques, professional knowledge and skills in power engineering. The employees of the Department of Power Supply and Electrical Engineering trained at EU partner universities have conducted a series of multiplication seminars for department staff (over 20 persons).
To assist the realization of master degree program «Digital power engineering», equipment valued over 2 million rubles has been purchased. This is laboratory equipment as well as software to ensure the interrupted delivery of the educational program under pandemic conditions and limited physical access to equipment.
During the project realization the University acquired new partners in academic and professional community as well as strengthened and extended the cooperation with existing partners. INRTU signed collaborative agreements with Riga Technical University (Latvia), Ural Federal University; academic exchange agreements with Technical University of Kosice (Slovakia), Ho Chi Minh City University of Technology and Education (Vietnam), Hanoi University of Mining and Geology (Vietnam). The University extended the cooperation in academic field with its main industrial partners: «Irkutsk power supply company», «Irkutsk power grid company» (electric power transmission and distribution), «Premier-Energo» (integrated realization of power engineering infrastructure projects), «Irkutskkabel».
7 students and 2 teaching staff took part in the international ESSENCE Summer School. The student teams listened to the pre-recorded lectures by ESSENCE consortium professors and solved energy cases. INRTU academic staff became Summer School lecturer and mentor. The School was held fully online in English.
University coordinators, staff and students took an active part in the final dissemination conference where the project results have been presented.
INRTU staff have also acquired professional experience in the field of international project management, acquired reliable partners for next initiatives, identified promising fields for future collaborations.