INRTU Design graduates are the winners of the Alexander Vampilov Cultural Center's "Painting Piece" contest
We remind you that the creative tournament started in February. Students of the School of Architecture, Construction and Design of INRTU and the Department of Pedagogy of the Moscow State University submitted 67 projects to the competition committee. The young artists and designers prepared portraits of Alexander Vampilov and illustrations - scenes from plays, stories and essays.
The students' works were evaluated by Galina Soluyanova, Director of the Center, Irina Bordovskaya, art historian, and artist Stepan Shobolov.
Exhibition of the best artistic solutions and awarding of the authors-winners was organized in the literary and theatrical salon of the Vampilov Cultural Center. Rap singers Citron Music performed for participants and guests of the event.
Graduates of Irkutsk Polytechnic 2022 successfully represented the Irkutsk Polytechnic. Marina Burdukovskaya presented "Vampilov's Crossword", becoming the author of the best design. Olesya Bronnikova took the third place in the same nomination - she presented the font poster "Trace in History":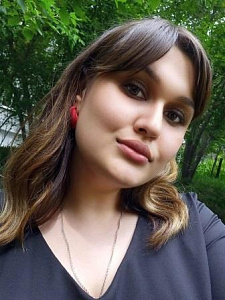 "In the work I emphasized Vampilov's initials in pencil. In this way I showed that the trace in history is a lot of bright works, reflecting the talent and worldview of the author.
In this sense, I am interested in the play "Elder Son," in which Alexander Valentinovich talks about spiritual closeness that surpasses blood kinship."
Olesya Bronnikova added that she and Marina performed thematic works under the guidance of Svetlana Murashova, associate professor of the department of monumental and decorative painting and design. G. Smagin, Svetlana Murashova.
"Associate Professor Svetlana Valerievna Murashova told us about the Painting Piece, and we began preparing art projects. The instructor helped us in the creation of the works and in the design of the contest entries, for which we are grateful.
"The prize was valuable for me - a beautiful album "Great Artists", which presents the best works of Pablo Picasso," Olesya Bronnikova shared her impressions.
Ekaterina Falaleeva, supervisor of the contest and chief research associate of the Center, reported that the experts highly appreciated Marina and Olesya's projects and their innovative approach to "dialogue" with the playwright and his work.
"According to Stepan Shobolov, the works of the INRTU graduates are compact, simple and understandable to the viewer, and at the same time artistically integral. This is very important in the design art".
The second place in this direction was awarded to Maria Polienko (Moscow State University).
The best illustrative works (graphics) based on the works of Alexander Vampilov were presented by the students of PSU - Ekaterina Kovalenko (1st place), Vladislava Bushuyeva (2nd place), Ayana Sagalkova (3rd place). Special prizes from the jury were also given to the participants from Irkutsk State University.
Anyone interested can visit the exhibition of works in the picture gallery of Alexander Vampilov Cultural Center at the address: Irkutsk, B. Khmelnitsky Str, 3. Phone for information: 8 (3952) 20-39-74.