An article was published in the American Chemical Society's journal «Organic Letters» within the work of the Baikal Research Education Center
Within the work of Baikal Interregional Research and Education Center (REC), scientists fr om INRTU, Irkutsk Institute of Chemistry named after A.E. Favorsky (IrIH SB RAS) and Irkutsk Institute of Organic Compounds named after A.E. Favorsky (IrIH SB RAS) published an article in «Organic Letters», a journal of the American Chemical Society
The article is entitled «Redirecting of charge transfer enables the control of the photoactivity of terarylenes».
The work was supervised by Dr. Andrey Lvov (IRICh SB RAS / INRTU) and Dr. Dmitry Loginov (INEOS RAS).
Andrey Lvov heads the laboratory of photoactive compounds, wh ere he develops new light-initiated processes based on reversible and irreversible photochemical reactions of organic molecules and their use for solving fundamental and applied problems (www.lvovchem.ru).
The scientist emphasized that a major contribution to the scientific article was made by fourth-year student Ekaterina Sergeeva and postgraduate student Erik Kuame.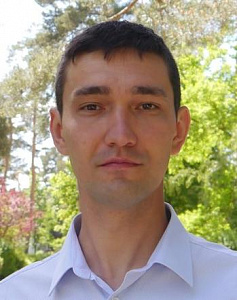 «Intramolecular charge transfer under the action of light is a fundamental phenomenon that contributes to the optical and luminescent properties of organic compounds and materials based on them. In the case of light-switchable compounds (photochromes), this process can lead to an undesirable decrease in the quantum yield of isomerization up to the complete loss of photoactivity.
On the example of thiophene-containing terarylenes of the isoquinolinium series, it was shown for the first time that this undesirable effect can be leveled by changing the direction of the intramolecular charge transfer. Using this approach made it possible to obtain a new family of thermally reversible photochromic terarylenes», Andrey Lvov reported on the subject of the study.
https://pubs.acs.org/doi/10.1021/acs.orglett.2c02825
«Organic Letters» is a highly rated scientific journal covering research in organic chemistry. It was founded in 1999 and is published by the American Chemical Society. In 2014, the journal switched to a hybrid open access publication model. The publication is annotated and indexed in the Science Citation Index Expanded, Scopus, Academic Search Premier, BIOSIS Previews, Chemical Abstracts Service, etc.